Springbig Holdings Inc (NASDAQ: SBIG) is at the top of many speculators watch lists; a $20 million Nasdaq Company projecting record revenues of $27 to $28 million in 2022 will report its Q4 and fiscal 2022 results this coming Thursday. Expectations are highs as Springbig, a leading provider of SaaS-based marketing solutions, consumer mobile app experiences, and omnichannel loyalty programs to the cannabis industry continues to see rapid growth and beat expectation by 6.5% inn Q3. The Company has also implemented cost cutting measures that are expected to result in approximately 21% less than annualized operating expenses incurred during 2022, shortening the timeline to Springbig's goal of positive EBITDA during 2023. 
Springbig went public at $5 per share in 2022 but saw significant declines late last year as the Cannabis industry markets experienced industry specific headwinds falling below $1. In 2023 however, SBIG has come back with power following an acceleration in top line growth and expansion of its industry leading platform into dynamic new industries. Jefferies analyst Owen Bennett has put a $4.50 per share price target on SBIG and the Company's CEO Jeffrey Harris has been quietly purchasing more stock at recent price levels recently acquiring another 60,000 shares. Springbig will report its fourth quarter and full year 2022 financial results after market close on March 9, 2023. Springbig will also host a conference call to discuss the financial results the same day at 5:00 p.m. ET.  We will be updating on SBIG when more details emerge so make sure you are subscribed to investmillion.com by entering your email below.
Springbig Holdings Inc
(NASDAQ: SBIB) is a market-leading software platform providing customer loyalty and marketing automation solutions to cannabis retailers and brands in the U.S. and Canada. Springbig's platform connects consumers with retailers and brands, primarily through SMS marketing, as well as emails, customer feedback system, and loyalty programs, to support retailers' and brands' customer engagement and retention. Springbig offers marketing automation solutions that provide consistency of customer communication, thereby driving customer retention and retail foot traffic. Additionally, Springbig's reporting, and analytics offerings deliver valuable insights that clients utilize to better understand their customer base, purchasing habits and trends.  
Springbig is no newcomer to loyalty marketing, the Company's founders have over 20 years of experience in creating loyalty rewards programs for retail businesses. In fact, they were some of the original pioneers of retail loyalty marketing. CEO, Jeffrey Harris founded InteQ over 20 years ago, a company that took loyalty marketing from simple punch card programs in coffee shops to technologically advanced marketing tools at the forefront of some of the country's biggest companies. Companies like Adidas, Reebok, and Citi Bank. After years of experience in big-box retail, the Company's founders saw tremendous opportunity in the underserved cannabis industry and decided to bring advanced loyalty programs, an essential marketing tool in such a competitive industry, to cannabis dispensaries and brands. 
Springbig revenues and financial growth have been rapid and continue to accelerate; in November the Company reported financial results for the second quarter ended September 30, 2022, reporting total revenue in the third quarter of 2022 increased to $7.4 million, up 22% from the third quarter of 2021 and up 13% from the second quarter of 2022. Subscription revenue increased 48% from the third quarter of 2021 and was up 9% from the second quarter of 2022. At the time of their Q3 filing Springbig stated they expect revenues in the range of $27.0 – $28.0 million, representing 14% year-over-year growth in fiscal 2022. For fiscal year 2023, Springbig expects an acceleration in top line growth, with the milestone of positive EBITDA being reached during fiscal 2023.  
Speculation is strong that Springbig is about to announce another stellar Q4 financial performance as the Company continues to reduce costs and drive efficiency in order to accelerate its path to profitability implemented at the end of Q3 which are expected to result in approximately 21% less than annualized operating expenses incurred for the nine months ended September 30, 2022, shortening the timeline to Springbig's goal of positive EBITDA during 2023.  
Springbig primary offerings include dispensary loyalty programs – loyalty rewards programs are the most effective way to build customer loyalty, increase foot traffic, and boost sales for cannabis dispensaries. By rewarding customers with points for every purchase, you're guaranteed to increase customer retention, keep customers satisfied and turn one-time shoppers into your most loyal customers. 
Dispensary text message marketing – dispensary text message marketing is the easiest and most cost-effective marketing channel for cannabis businesses to advertise to potential customers. By using our FCC compliant dispensary marketing tools to gain insights into each of their customer personas, cannabis businesses are able to better target their customers and personalize their experiences for better results and guaranteed ROI. 
Cannabis CRM – our cannabis CRM gives you the unique data points required to operate a cannabis dispensary that non-cannabis CRM systems simply can't provide. When used with our dispensary loyalty rewards & text message marketing platform, it becomes as simple as a few clicks to create targeted dispensary marketing campaigns based on real-time data insights into your inventory. 
The CEO of SpringBig quietly purchased 60,000 shares of $SBIG. Big investors have been buying loads of shares of this ancillary pot stock within the last few months. It could blast like a rocket very soon. #PotStocks #cannabisindustry $GME $AMC #Memes pic.twitter.com/sRpIEurgim

— Steven Hinkes (@StevenHinkes) March 2, 2023
To Find out the inside Scoop on SBIG Subscribe to investmillion.com Right Now by entering your Email in the box below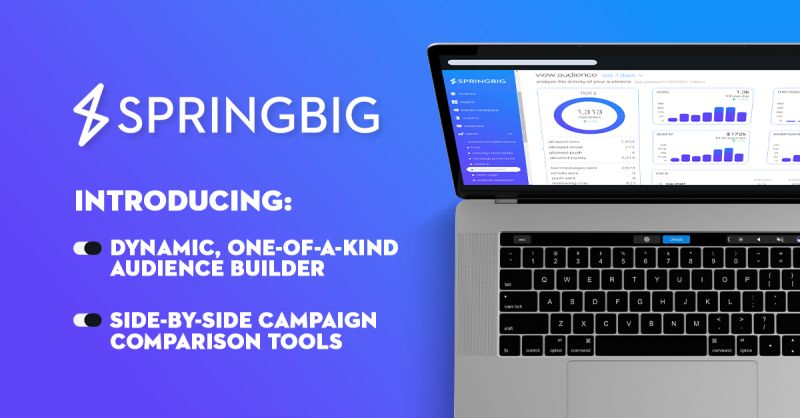 Cannabis advertising network – brands by Springbig is an advertising network unique to the cannabis industry that connects cannabis brands directly to consumers by giving your cannabis brand already on the shelves the ability to send sponsored text message marketing campaigns through Springbig's network of retail cannabis businesses. 
Dispensary referral program software – leverage word-of-mouth advertising by generating unique trackable links that your champion customers can share with their friends, family, and followers, on social media and of course sms, rewarding them for referring new customers to your dispensary and more importantly – buying your products.
In January SBIG introduced a new integration with KORONA POS, the leading cloud point-of-sale ("POS") solution for small business to enterprises, from software vendor COMBASE. KORONA POS and Springbig's bidirectional integration will allow merchants to apply and award loyalty offerings directly from KORONA POS at checkout. Merchants will also be able to enroll new members into the loyalty program from either the POS or one of Springbig's many enrollment tools. The Company's marketing platform seamlessly integrates with KORONA POS to provide marketing segmentation based on sales data. This allows highly targeted and strategic campaigns to drive business and reach consumers in a highly personalized way.
KORONA POS is an all-in-one integrative solution trusted by thousands of merchants aiming to grow and scale their businesses with ease. The POS platform offers a variety of integrations, including streamlined advanced inventory and data reporting, to meet the needs of business owners from a wide range of industries. KORONA POS also helps businesses stay in compliance through its Metrc-integrated track and trace system.
Springbig also recently introduced a new integration with Flowhub, the leading cannabis software company for dispensaries. The Company's latest feature utilizes Flowhub's Maui™ to simplify the checkout process, allowing customers to track their rewards on the go or in store. springbig and Flowhub's two-way integration is immediately available to all dispensaries using both platforms and to current and incoming Springbig loyalty members. The collaborative feature eliminates the need for customers to use their phones at checkout to redeem or track their rewards and offers. Instead, budtenders and dispensary employees can redeem Springbig rewards for customers through point of sale. Additionally, budtenders and dispensary employees will have the ability to enroll customers in the loyalty program at checkout.
Also, in February Springbig debuted its new logo and added two marketing features to its suite of marketing solutions. Build Your Own Audience and Compare Campaigns. Build Your Own Audience was created at the intersection of customer segmentation and data-driven marketing and expands the Company's platform to meet the diverse needs of dispensary owners across North America. The chief cannabis customer data platform enables merchants to gather key details about, and create important KPIs for, a specific audience. Merchants can use this information to create relevant and targeted marketing campaigns and send offers to finely tuned customer segments. The implementation of this one-of-a-kind marketing solution will boost the marketing tactics of forward-thinking dispensaries and provide personalized campaigns that upgrade the consumer experience for each customer.
Compare Campaigns allow merchants to compare up to four of their previous campaigns side-by-side, allowing for a/b testing and further analysis. By using this feature, merchants will have the information needed to easily create and develop highly targeted and effective campaigns. 
$SBIG– Springbig Holdings Inc. – Trading at .80 x .82 is a steal at these levels. Big Earnings call on Thursday March 9th should send this upward quickly. pic.twitter.com/IinbpCpjdY

— Small Cap Corner (@SmallCapCorner) March 2, 2023
 We have something big coming Subscribe Right Now!
Currently trading at a $20 million market valuation SBIG os is 26,211,914 shares issued and outstanding, Springbig has $14.9 million in assets including $6.8 million in cash in the treasury receivable vs. $14.8 million in liabilities. Springbig continues to see exponential growth in revenues beating Q3 expectation by 6.5% and implementing cost cutting measures that are expected to result in approximately 21% less than annualized operating expenses, shortening the timeline to the Companys goal of positive EBITDA during 2023. We will be updating on SBIG when more details emerge so make sure you are subscribed to investmillion.com by entering your email below.
Disclosure: we hold no position in SBIG either long or short and we have not been compensated for this article.